Shop Campaign County Gift Card
Shopping at local businesses and restaurants significantly impacts our local economy. Everyone needs to make an effort to shop local year-round, not just during the holidays. More money stays in our community when you do, which creates new jobs and allows for necessary improvements.
The Chamber is making it easier than ever for you to shop local with the launch of our new Shop Champaign County gift card. The new Shop Champaign County gift card can be used at any local business that accepts Mastercard, and there are no hoops for businesses or the card owner to jump through to keep the money locally.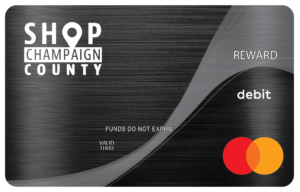 Purchase a Shop Champaign County Gift Card and help keep our money local!